Tents and gazebos not only keep your guests happy, but greatly enhance the aesthetics of your event. Bring your wedding or outdoor party to the next level by setting up a party tent, which you can decorate with lights, fill with seating, and embellish to complement your theme.
When I was planning my own wedding, the cost of wedding tent rentals was one of the most stressful items on my list. It turns out that you can buy a wedding tent for a fraction of the cost of tent rentals. With just a bit of imagination and a fun supply of inspiration, you can create a beautiful event tent that will be the centerpiece of your special day.
Event tent rentals traditionally begin around $500 for a smaller size that you construct yourself, with $5,000 being the higher end of the spectrum. If you buy your own tent, however, you'll only pay from $100-$450 with the added bonus of owning the tent. After your wedding, store the tent away for future parties or sell it to recoup costs.
Below I've selected some of my favorite inspirational event tent setups to get you started! Happy planning!
>Check out ALEKO's range of affordable party tents and gazebos!
Event Tent with Enclosed Sides  
Party tents with closed sides are classic for weddings and outdoor gatherings. You can decorate as much or as little as you wish since tents provide many opportunities to hang decorations, string lights, and place seating. This style of tent will keep your guests comfortable by providing a central gathering space in which they can eat, talk, and hang out.
I found the tent setup below particularly lovely due to its simple but fun vibe. The enclosed tent sides give it an intimate feeling, in addition to full protection from the sun and rain. The addition of wood flooring, the minimal decorations, and the consistent neutral tones throughout make this a great example of simplicity at its best.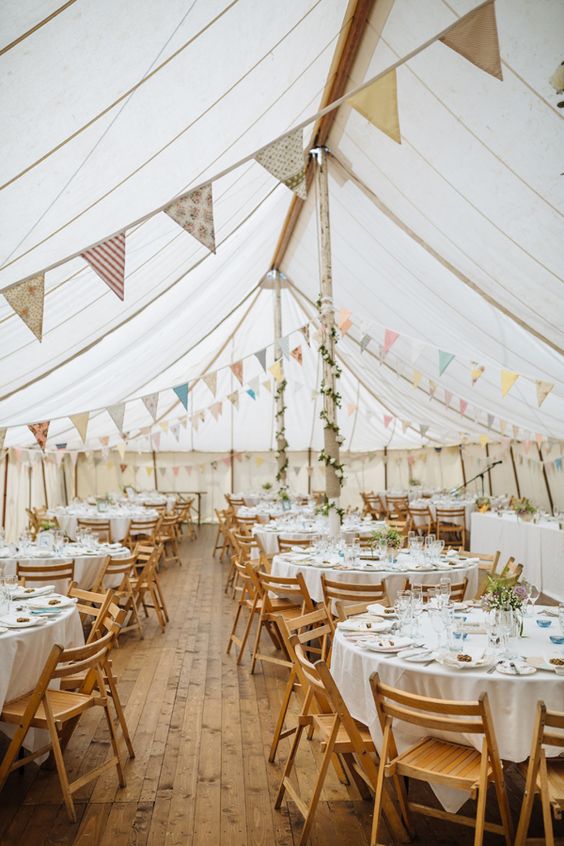 >Source: Whimsical Wonderland Weddings
This style below is more grand than the one above, and a great example of how a tent can be decorated for a more elegant-styled wedding. The consistent white color scheme is chic and ties into the color of the tent itself to bring it all together.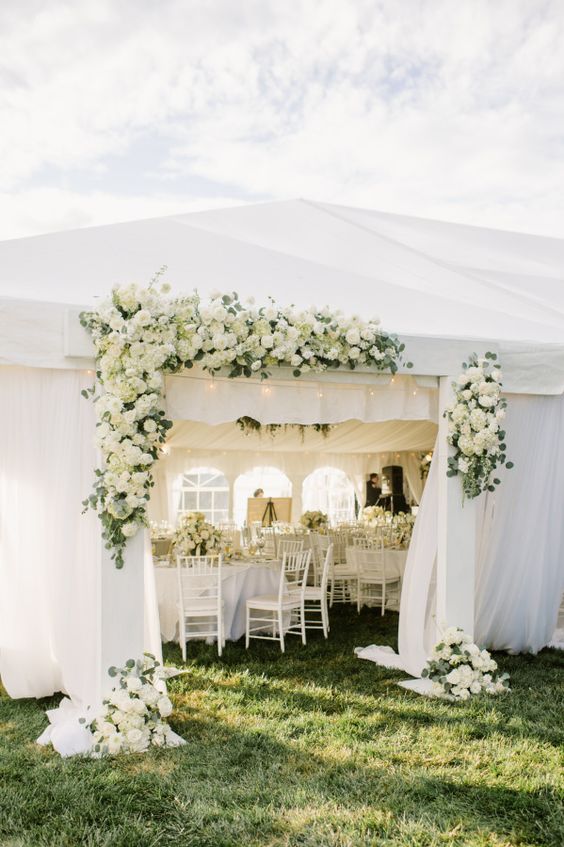 >Source: Style Me Pretty 
Replicate This Look!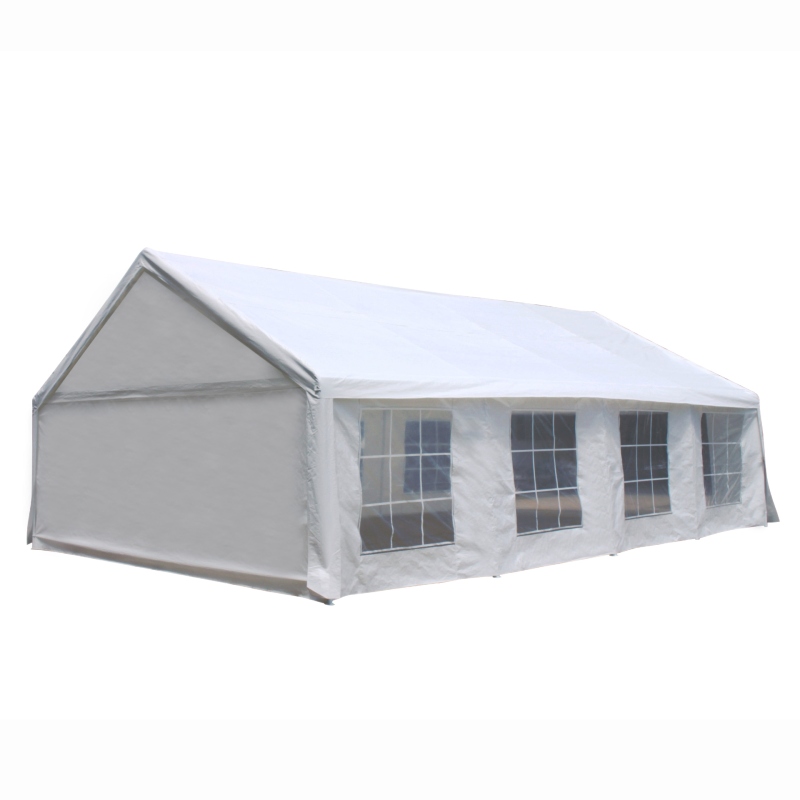 >Buy Now: ALEKO's 20 x 30 Foot Heavy Duty Outdoor Canopy Tent for just $449 with free shipping!
Open-Sided Party Canopy 
Open-sided canopies are great for decorating, as you can trail fabric along the legs and across the sides to create a beautiful textured effect with the added option to tie in your theme colors. I love this classic style canopy for weddings, parties, barbecues, baby showers, or even brunch!
The tent below likely started plain and unadorned, but the addition of a scalloped valance around the perimeter gives it a finished and high end look. The light, semi-sheer fabric down the length of the legs contributes to the soft, pretty aesthetic of the entire scene.
The example below does a great job of showing the many ways that a simple tent can be dressed up without sacrificing functionality.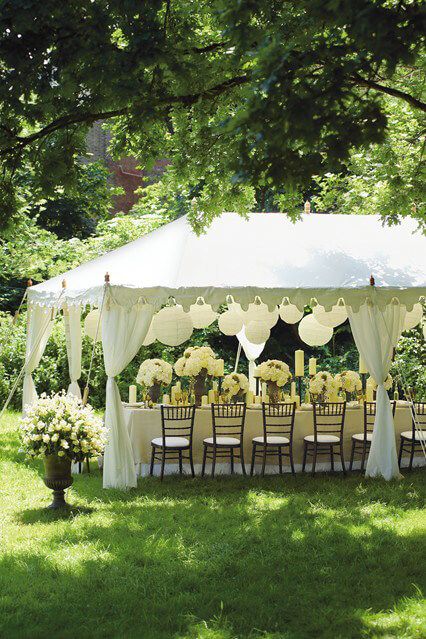 >Source: Pinterest
The beautiful, modern string lights in this example are definitely the focal point of this party tent! Party canopies are excellent for hanging decorations and lights for ambiance.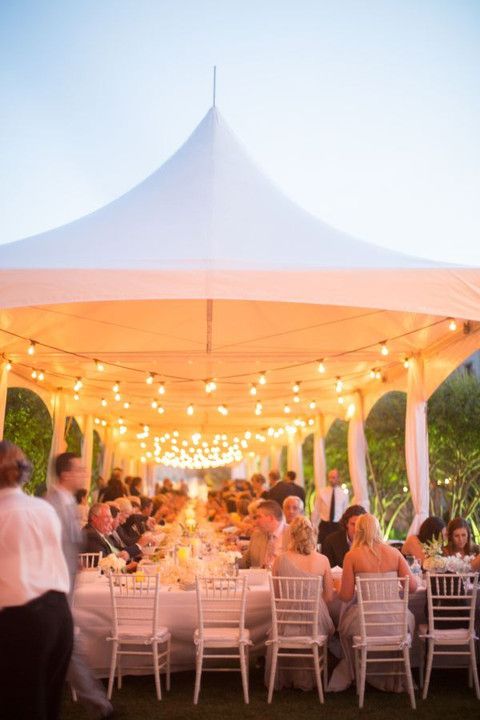 >Source: Happy Wedd 
Much like the first example, this tent features a wonderful gold and white valence around the perimeter that finishes the look, with matching layered fabric hanging from the legs. Beautiful!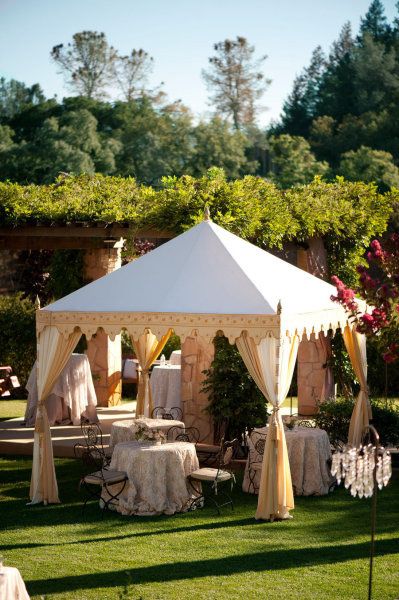 >Source: The Little Book of Secrets
Replicate This Look!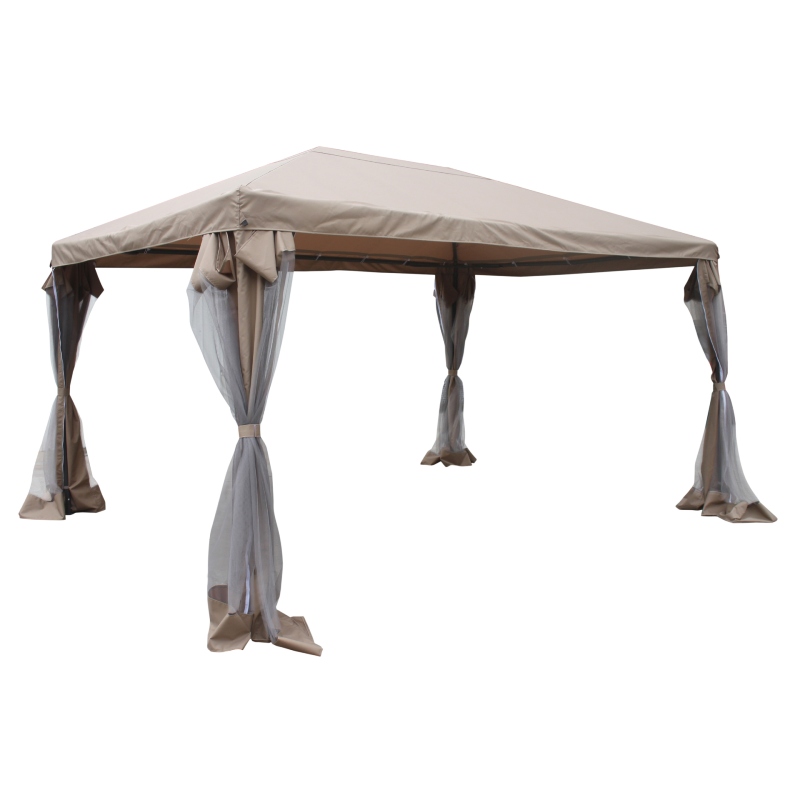 >Buy Now: ALEKO's 10 x 13 Steel Gazebo With Mesh Netting, only $189 with free shipping! 
Sun Sail Canopies 
Sun sails are gaining traction in the event world, and for good reason! These beautiful canopies are versatile since they can be anchored to anything sturdy, they're visually striking, and they can be mixed and matched with multiple colors and shapes. These minimal, yet interesting sun shades are sure to give your party a stylistic edge.
The beautiful garden setup below is ideal for backyard parties and barbecues, as it provides some shade, but not too much. The unique shape also adds dimension to the landscape.
>Source: Lushome
The sun shade below is used so well–the addition of lights around the perimeter makes this canopy great for both daytime and nighttime parties, and the soft glow adds to the festive environment. Adding coverage to the seating area is a great technique for creating a cohesive gathering space where people are drawn to relax and have fun.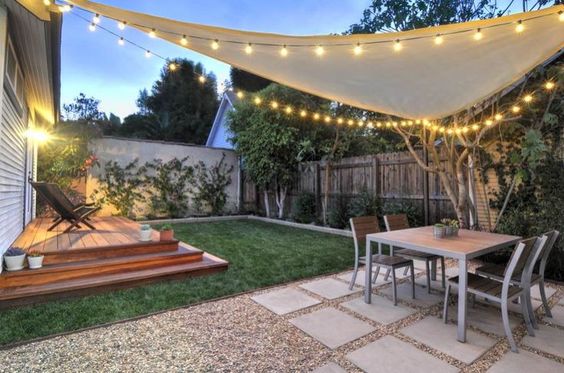 >Source: Simple Studios 
Replicate This Look!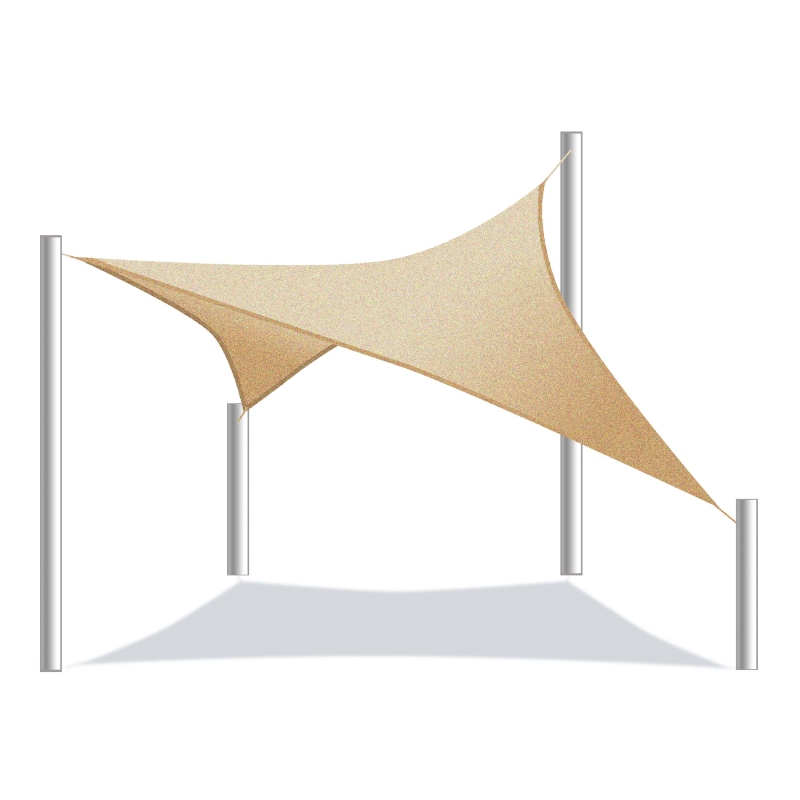 >Buy Now: ALEKO's 20 x 16 Rectangular Sun Shade, only $64 with free shipping!
ALEKO Party Tents, Shades, and Gazebos
Check tent rentals off your list!  ALEKO party tents are affordable, reliable, and ready to be decorated! Check out our range of sizes, styles and materials, and once you're ready to order, receive FREE SHIPPING right to your door!
Feature image credit: Pinterest