Why the Backyard?
Now that winter has come, you probably can't wait for the warm summer heat to arrive and get outdoors again. The sunshine and warm blue skies, fresh air – what more could you ask for?
How about creating that backyard oasis where you can kick back and relax and entertain a family friend or two? ALEKO can help you create a beautiful living area that's not only comfortable, functional and stylish, but affordable too.
Other than the occasional barbeque and gardening, backyards are the most neglected part of any home. However, when the weather permits, you can use the outdoors effectively for entertaining guests and hosting parties by creating the right ambiance using the right accessories.
Here are a few tips to make your backyard oasis come to life.
Tents & Gazebos:
If you want to entertain your guests all year long, consider investing in the Aluminum Hardtop Gazebo or the Heavy Duty Steel Gazebo that not only has mesh netting to protect you and your guests from unexpected rains or those pesky mosquitoes.
Click here for more info on the Aluminum Hardtop Gazebo
Furniture:
Your outdoor living area won't be complete without exquisite lounging material. ALEKO's Linosa 4-piece Indoor/Outdoor set is not only gorgeous but affordable too. It would not only create a great place to kick back and relax by the fire pit, but an excellent place for your friends to gather around and have a cup of coffee and snack on a biscuit or two.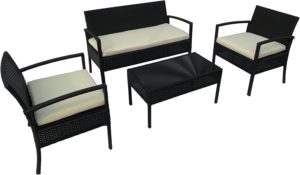 Click here for info on the Linosa 4-Piece Indoor/Outdoor Set
Fire Pits:
When it comes to heating things up in the backyard, a fire pit works quite well. Even if you happen to live in an area where winters are usually prolonged, a fire pit can keep the area and good people warm.
If you're looking to set up a fire pit, look no further than ALEKO where shoppers can get an affordable fire pits with Free Shipping. No matter the style, all fire pits come with a flame retardant lid and high quality poker to kindle your fire not to mention safety feature integrated into their lightweight steel, water resistant design.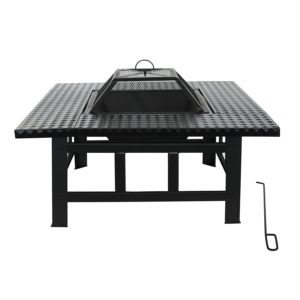 Click here for more info on the Rectangle Metal Top Fire Pit
If you want to get into that real oasis vibe, consider getting the Chestnut Rattan Wicker 3-piece Backyard Bar set  and impress your friends with your amazing bar-tending skills.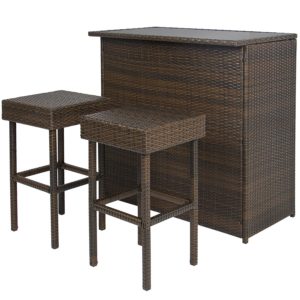 Click here for more info on the Chestnut Rattan Wicker 3-piece Backyard Bar Set
Accessorize:
As soon as you see your oasis come together, make sure to accessorize with lighting to set the mood. Consider using battery or solar powered lamps because if the weather decided to take the electricity out, at least you'll have light.
ALEKO has a variety of selections to choose from. From wall mounted solar powered stair lights to decorative waterproof ground lamps, there will should always be a light to light up your backyard oasis life.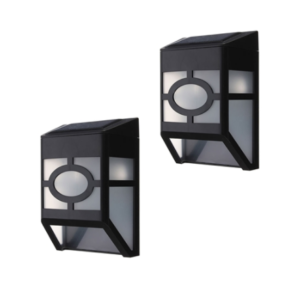 Click here for information on the Solar Powered Decorative Wall Lights