With the sun shining and the tiny house movement thriving, there has been a huge upsurge in tiny house builders adding sunshade products to the exterior of their tiny homes—and it makes a lot of sense! With the average tiny ranging from 120-300 square feet, it's vital to maximize all usable square footage. For many folks, this means creating a patio area just outside the front door.
Sun Shade Sails
Sun Shade Sails are a favorite for their versatility, fun geometric shapes, light weight, simple installation process and super affordable price tag. For a lot of tiny houses owners, an appealing aspect the tiny lifestyle is the ability to move the house frequently. Sun sails are easy to set up and take down because they can be suspended to anything that is sturdy, like trees, poles, buildings and more; simply unhook the lines and fold the sun sail so it's ready to go at the next location!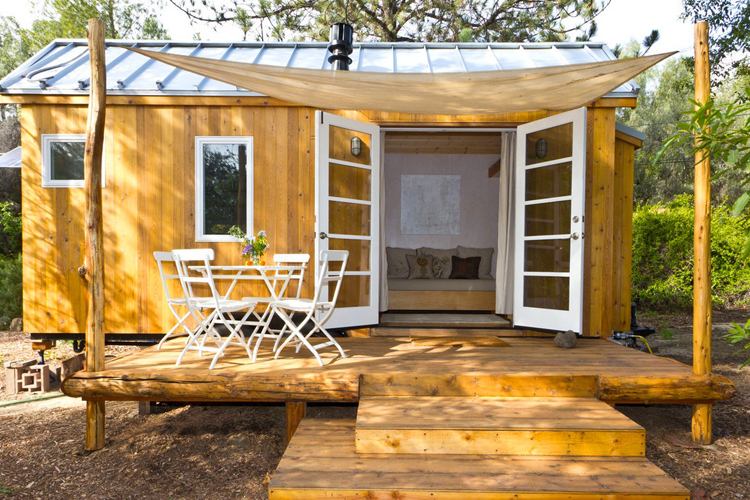 This beautiful, natural wood tiny house that is featured on Tiny House Blog is a great example of how much square footage you can gain by simply adding a deck and a bit of shade to the exterior of your home. The sun sail used in this image has been anchored to natural wood poles that bring the look of the entire home together, with secondary anchor points to the house. This is a simple, yet very effective and low-cost way to integrate a comfortable outdoor living space.
This stylish, modern tiny with two stories is featured on Tiny House Basics. This gorgeous tiny layers two triangular sun sails over the patio area to create an airy, partially shaded oasis right out the front door. Using a simple line system to rig the shade sail to their home and to two exterior points, this simple design provides maximum results for easy, convenient shade.
Solar Panel Awnings
One of the most exciting aspects of tiny house ownership is the ability to use less resources to sustain your home, in addition to the expansive creativity that is inherent in the design process. With tiny homes, it's important that all pieces of the home be multipurpose, aesthetically pleasing and functional. In the photos below, creative tiny house builders have realized that both solar panels and a patio awning were necessary for these homes–why not combine them?! These designs are sleek, provide a good amount of shade and help power these homes all the while.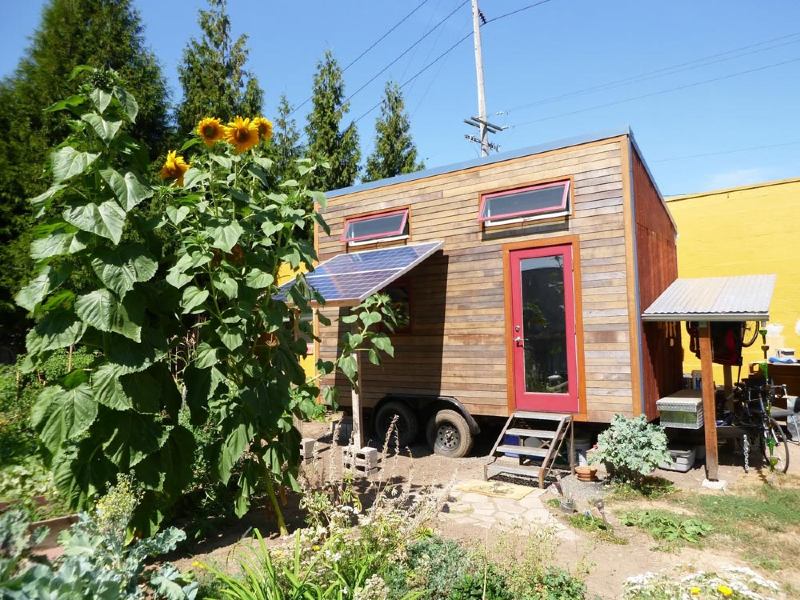 This charming, eclectic tiny house featured on Tiny Living shows a simple, easy-to-install solar awning option that requires nothing beyond some hinges and two support poles. This functional design offers a lovely patio space below the panels where two people can comfortably relax the day away in outdoor lounge chairs as their house batteries charge up.
This clever solar panel awning design was featured on Tiny House Talk. This modern-styled solar awning not only provides shade in the patio area, but the solar panels can transform for easy transport. Simply fold the panels up against the house for streamlined travel that won't risk the safety of the panels while on the road.
Retractable Awnings
Retractable awnings are a classic, clean design that homeowners have loved throughout time. The most appealing aspect of retractable awnings, especially for tiny houses, is the fact that the awning can roll open or retract quickly, with very little effort. This sun shade option makes it easy to transport the tiny house since retractable awnings roll into a minimal tube shape. Retractable awnings are also convenient for adjusting to daily weather conditions–roll the awning out when it's sunny, and retract it when the weather gets stormy.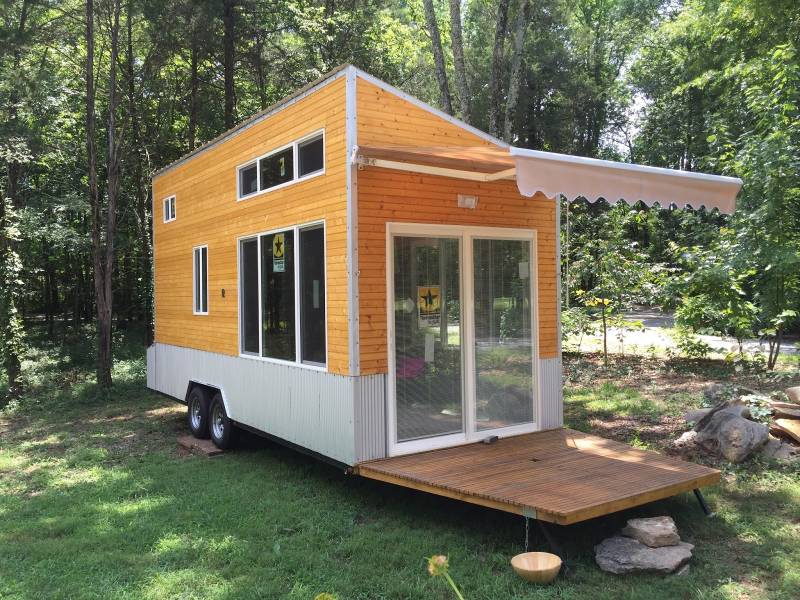 Featuring a lovely fold-down patio with a retractable awning above, this gorgeous tiny shown on Tiny House Town provides homeowners with a peaceful shady natural perch outdoors.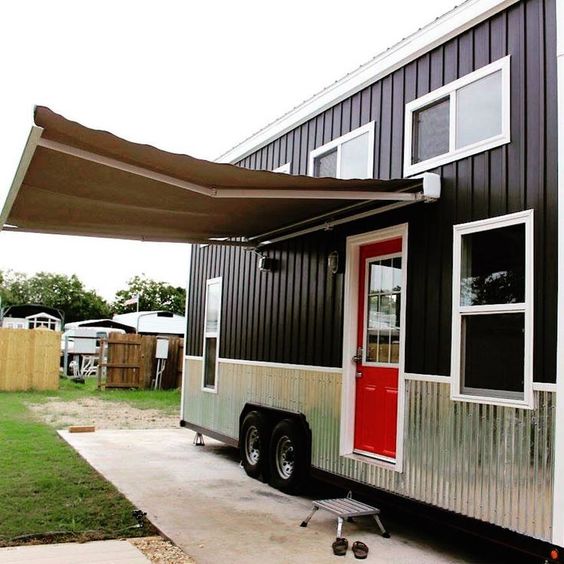 This modern, two-toned tiny house, built by Mini Mansions, is a great example of a tiny house on the go–homeowners who prefer to take to the road more often than not might prefer the simplicity of not having an exterior porch area and the flexibility to open and close the awning whenever it is needed. Simply add some patio chairs and enjoy!
ALEKO Sun Shade Products – Affordable, Reliable and Durable
While the process of building a tiny house can be daunting, especially where cost is concerned, your sunshade option luckily doesn't have to break the bank. Offering retractable patio and RV awnings, sunshade sails, solar panels, pergolas, window and door awnings and so much more, plus free shipping to the continental US, ALEKO's got you covered!
>View Retractable Patio, Window, Door and RV Awnings