Adding a cover to your patio area, whether it's a retractable awning, a simple shade sail, or a freestanding pergola, will increase the usable square footage of your home and give you the opportunity to spend more time enjoying the outdoors.
Below we have highlighted ALEKO's three types of sun shade options; it is our hope that you find the coverage that is most ideal for your home.
Retractable Awnings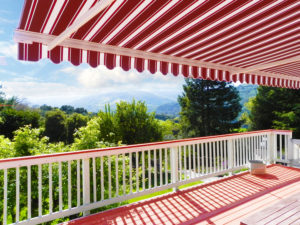 Awning Origins
Retractable awnings are a traditional favorite for sun and rain protection. The first known awnings originated in the Middle East and Africa, where people hung woven fabrics and animal hides on poles to escape the hot sun. Retractable awnings, which we still use today, were invented about 150 years ago in the US. Their functional design and aesthetically pleasing appearance helped the popularity of awnings spread worldwide and endure the test of time.
Why Choose a Retractable Awning?
Retractable awnings are secured to your house directly for coverage straight from your door. This option is semi-permanent, as it is bolted into the house itself. This type of sun shade is ideal for people who do not wish to take their awning up and down regularly. Perhaps the greatest benefit of this awning style is the fact that it is retractable – open it up when you wish to be outside, and close it up when you no longer need it. Retractable awnings can be either motorized or operated with a hand crank, depending on your preference.
Wind and sun sensors are a huge perk with retractable awnings. When high winds occur, the sensor will activate the awning motor and the awning will retract to close, thus preventing damage to your awning. When the sun comes out, if the awning is already closed, the sensor will open the awning to provide shade to the interior rooms of your home. The best part is that this sensor works when you're away, so you can relax knowing that your home will stay cool and your awning, protected.
ALEKO retractable awnings are also available in a range of colors and sizes; you're sure to find one that complements any existing décor.
Why We Love Retractable Awnings
Semi-permanent; doesn't need to be put up and taken down beyond the initial installation
Retractable; can be opened and closed in mere seconds
Can use either a hand crank or a motor to open and close
Wind/Sun Sensors can open and close the awning automatically based on weather conditions
Retractable awnings come in a range of sizes and colors to suit your needs
Excellent sun and rain coverage
Pergolas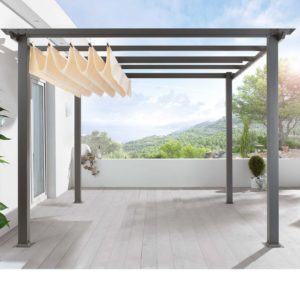 ALEKO Pergolas
Origins of Pergolas
Pergolas are both chic and functional, giving a nod to architectural styles of the past. Dating back to 1400 BC, the first known pergolas were constructed in ancient Egyptian gardens where the pergolas not only provided shade, but a place to grow ivy and other trailing plants. This simple yet stylish sun shade has remained a popular choice through the ages.
Why Choose a Pergola?
Pergolas are an elegant addition to any patio, courtyard, garden, or other outdoor area; they provide freestanding shade using four columns that hold a thick canvas cover. Pergolas are great for weddings and other outdoor parties, as the columns and flat top can be decorated with lights, plants, and decorations. Pergolas also give a more enclosed feeling than retractable awnings, which is ideal for intimate conversations, dancing, and eating.
Pergolas are a great option for light sun and rain protection, however if you require more complete coverage, a retractable awning might be a better choice. Pergolas shine most in mild to moderate weather.
What is especially great about ALEKO's pergolas is that the awning fabric is retractable; with the simple pull of a cord, the awning closes and opens in just moments to provide more or less coverage.
Why We Love Pergolas
Can be temporary or semi-permanent, depending on your needs
Freestanding; can be placed anywhere that is level
Awning fabric is retractable; simply pull a cord to open and close
Easy to decorate for weddings, parties, or to create general ambiance
Available in three classy colors that fit with a variety of aesthetics
Repels rain and creates cooling shade with ample airflow throughout
Shade Sails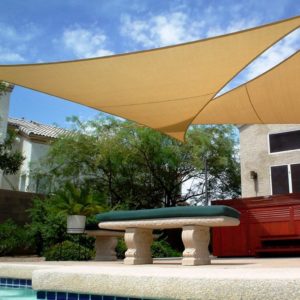 Origins of Shade Sails
Both chic and visually interesting, shade sails are a versatile and minimalistic option to provide shade and light rain cover for your outdoor area. Much like pergolas, shade sails have a historic background; in ancient Rome, sailors mounted large canvas sails over the Colosseum to provide shade to audiences. Even before that, sails from ships were used to create makeshift shade. In modern times, shade sails have been designed with a catenary curve to create perfect tension wherever they are hung. Shade sails are often utilized for their cheap cost, effective shade, and easy installation.
Why Choose a Shade Sail?
The best part about shade sails is that they can anchor to anything that is sturdy, as they are suspended above the ground. Shade sails can also be anchored to freestanding poles to create a pergola-like structure.
People often get creative with shade sails and layer multiple shapes and colors for a kaleidoscopic effect. Their visually interesting aesthetic makes shade sails a popular choice for high-end spaces, such as pools and gardens.
Shade sail material is a thick, UV-resistant canvas that can be used in a variety of ways beyond shade and rain protection, for example used as replacement canvas for tents or anchored to trees to create a relaxing, shady spot while having a picnic or camping. The shade sails' compact size and minimal hardware make them the most portable awning option available.
Why We Love Shade Sails
Can be temporary or semi-permanent, depending on your needs
Can be placed anywhere with sturdy anchor points
Chic and unique style
Available in a range of shapes and colors to suit your décor
The thick, durable canvas is multipurpose and has uses beyond providing shade
UV and water resistant
Multiple shade sails can be mounted to create an interesting shade structure
Can be mounted to freestanding columns to create a pergola-type structure
Highly portable and lightweight