Going to a resort is all about getting comfy in a place that you adore! Why not treat your patio–and yourself–to a makeover that makes you feel like you're in the tropics year-round? Below are easy and affordable ways to create a resort vibe in your own backyard.
Color Palate
An easy way to bring resort vibes to your backyard is to add colors that evoke the feeling of your favorite vacation spots—bright whites for fresh linens, vivid azures for the color of water, and shades of green to evoke lush, tropical plants. Everyone's palate will look different!
In the inspiration below, Southern Living uses a base of bright white and pulls the look together by including colorful accent pillows. This lush outdoor environment is built for relaxation!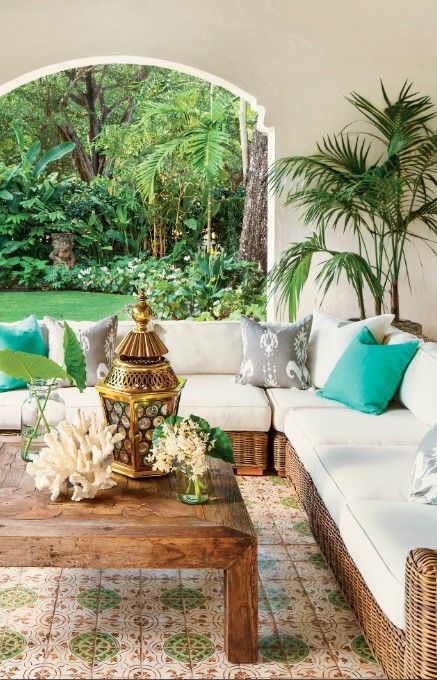 Create a similar look by choosing furniture that is bright white and includes natural, textured materials such as rattan or wicker.
This beautiful rattan sectional is a great pick, as it is affordable, large and most importantly, is comfortable!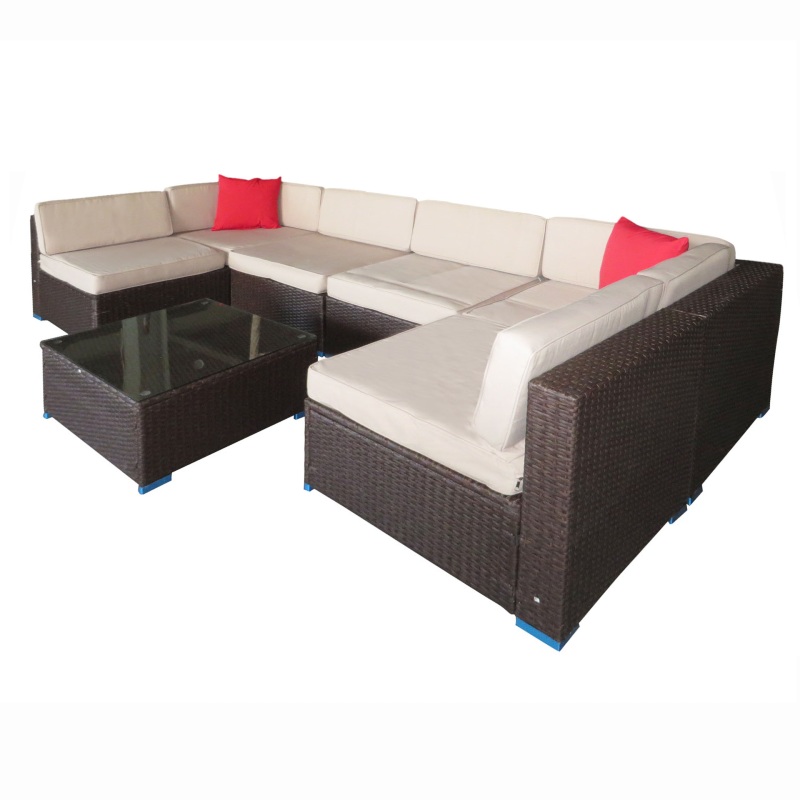 Bright blues are refreshing to look at and certainly bring a tropical feel. This aqua indoor/outdoor pillow is inexpensive and the pop of color will transform your space instantly.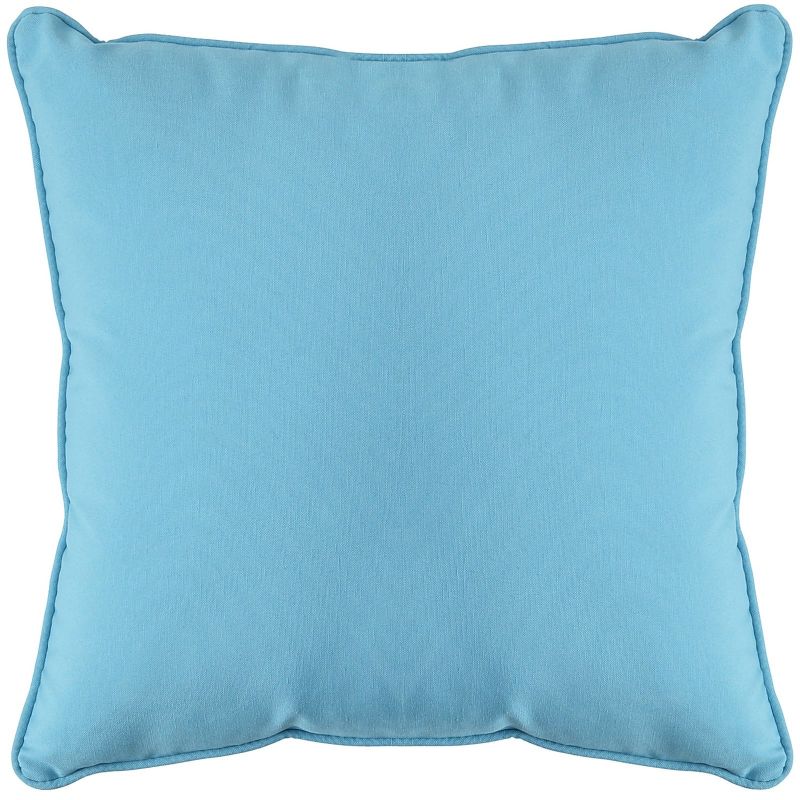 Add Fire
There's something magical about flickering torches and fire pits while on vacation. Stand-alone fire pits also make a great addition to backyards–no setup necessary, just add wood and enjoy!
This inspiration from HGTV is such a dream! The square fire tables and oversized rattan loungers create an ideal environment for relaxing into the moment.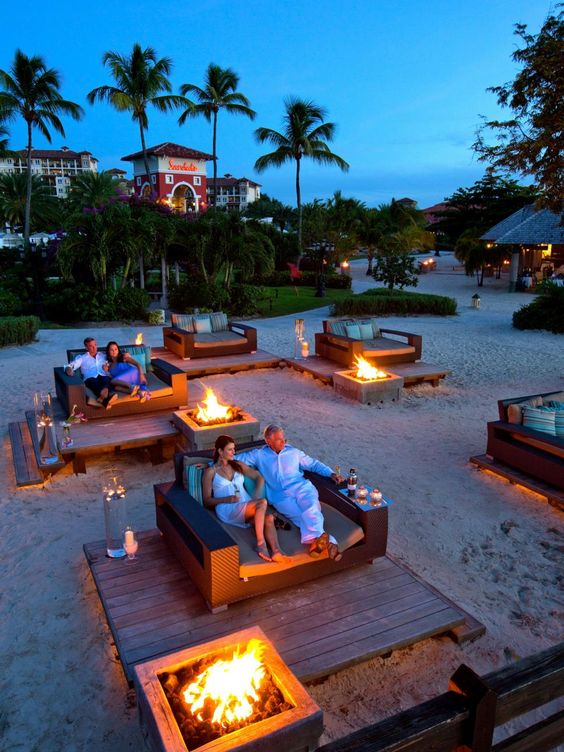 Achieve a similar look with a fire table! This square wood-fueled fire table is beautiful, affordable, easy to use and even comes with a cover for added safety.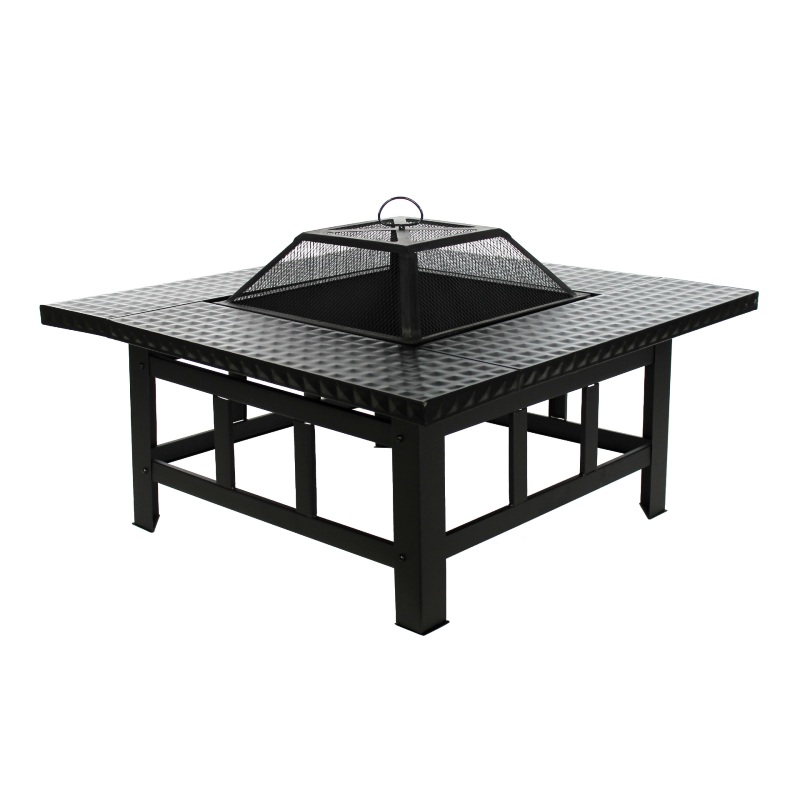 If real wood is not your thing but you still want to enjoy the gentle ambiance of an outdoor fire, this square gas fire pit includes an unique internal fire bowl.
Loungers
When I say "tropical," do you think of umbrellas and lounge chairs? I certainly do! This inspiration from Karmatrendz is a dream with white lounge recliners and matching poolside umbrellas.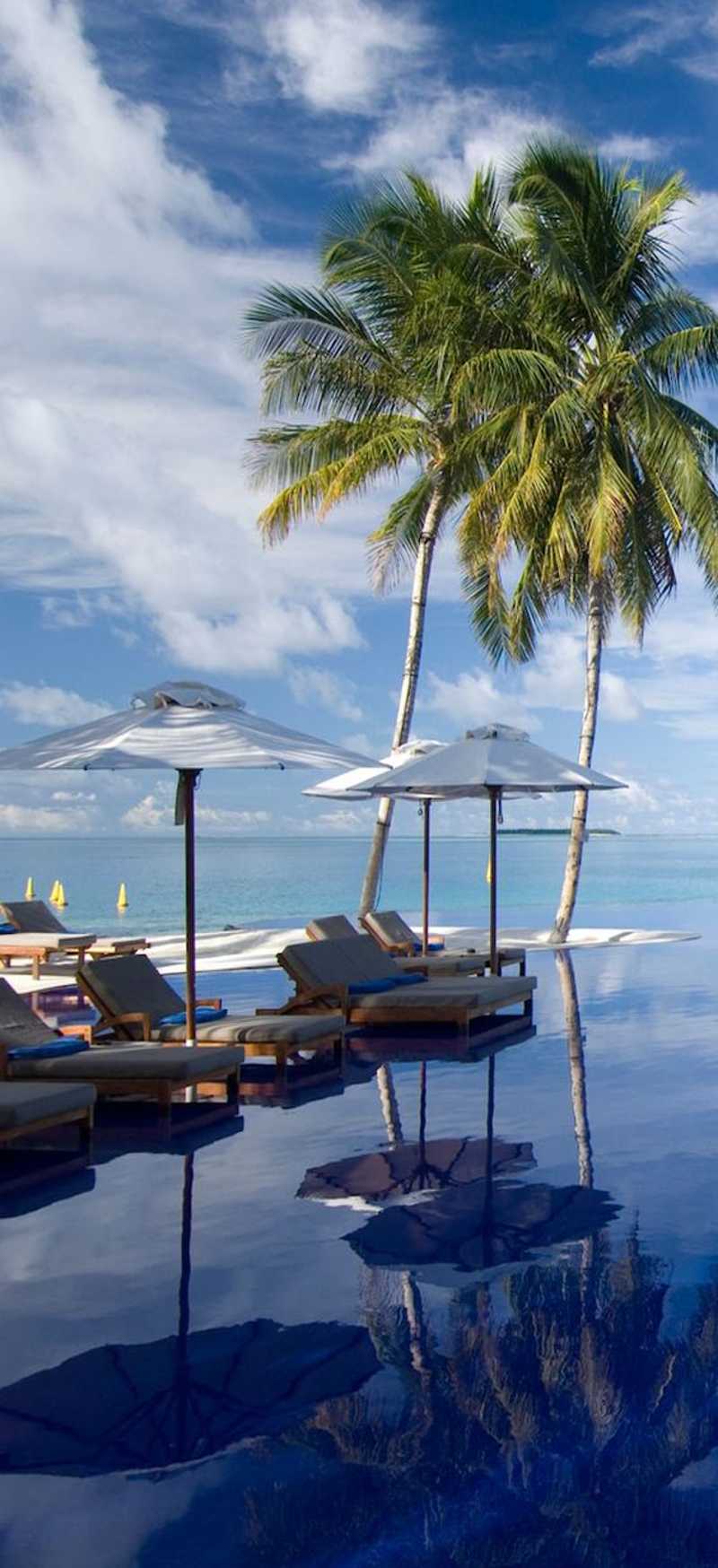 Achieve a similar look and feel for a fraction of the cost with these loungers that come as a set of two. These loungers feature a comfortable surface to lay on and an adjustable back rest so you can lay down and sunbathe or sit up and have a chat with friends.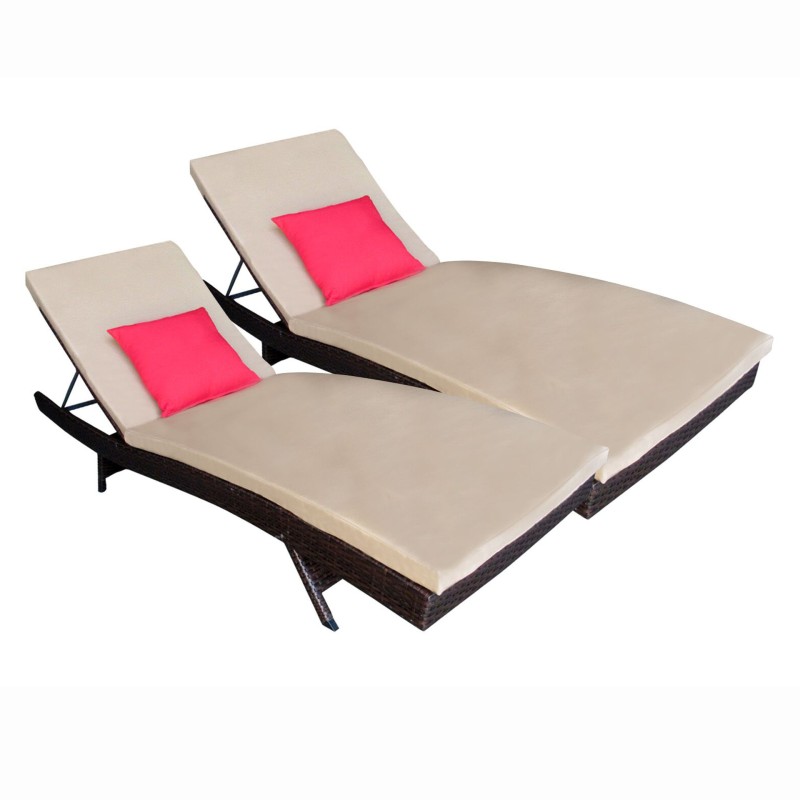 While we all enjoy getting some sun, there's nothing like enjoying the warm breeze from the shade when it's hot out. This 10-foot umbrella features LED under lighting so that your relaxing evenings on the patio can extend into the night.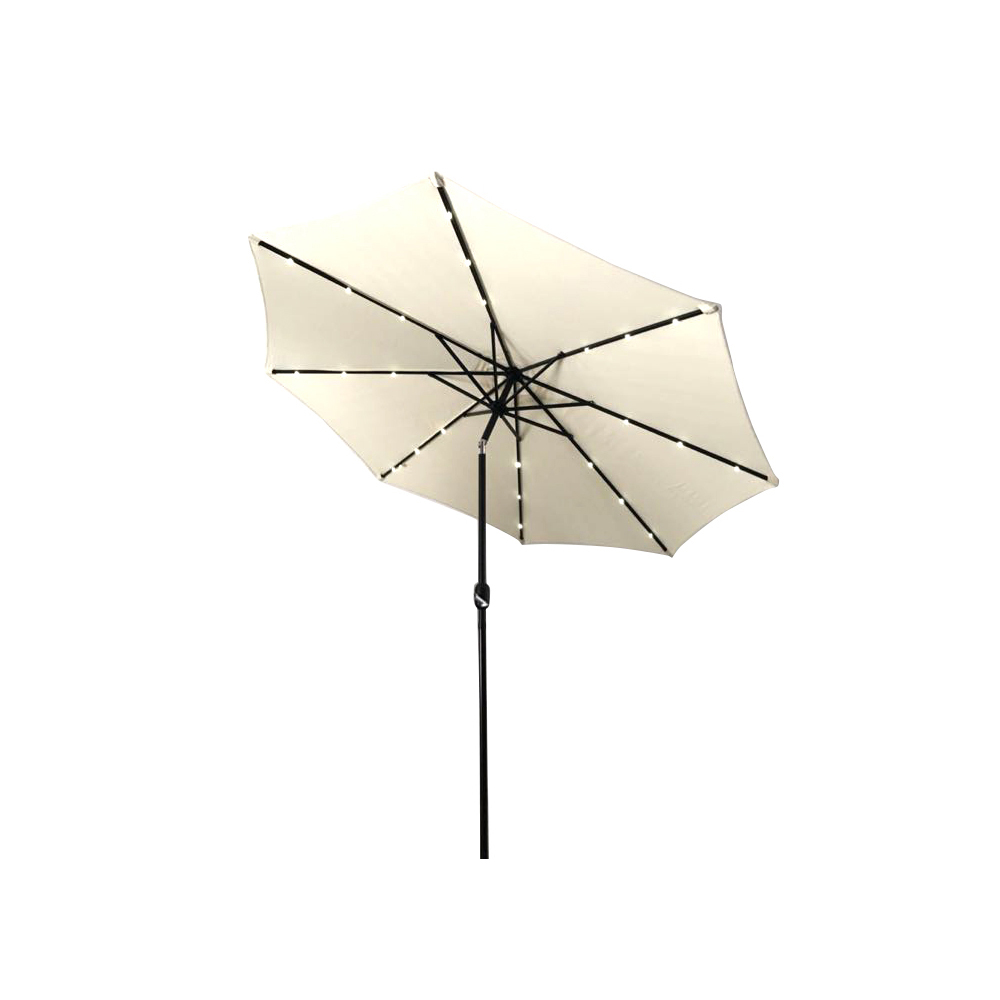 For those of you with a little extra space, this freestanding and slightly larger patio umbrella also features LEDs.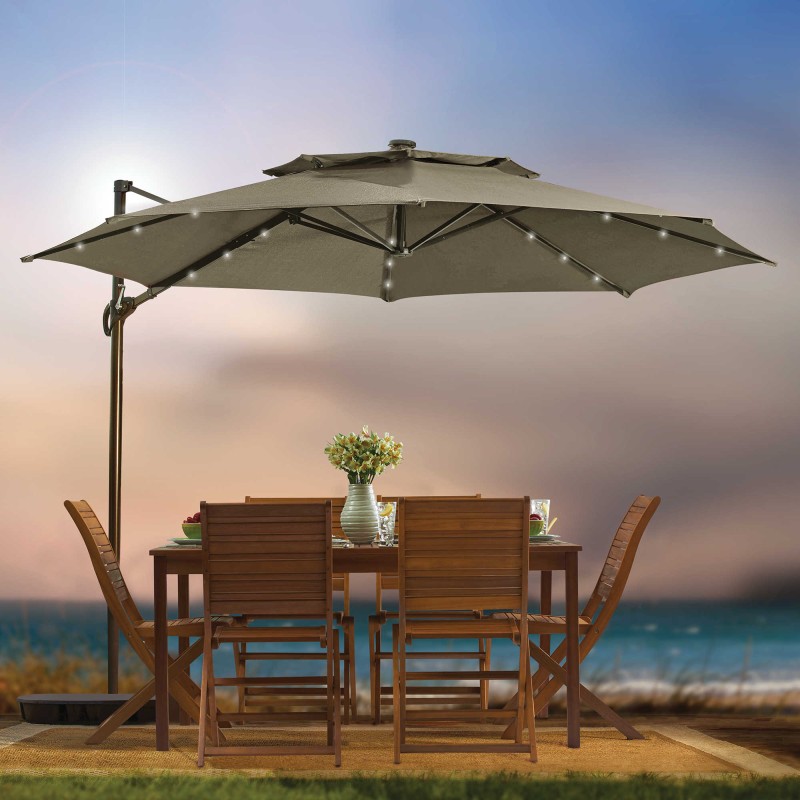 Bringing it All Together
The first step is to think about a color palate that reflects your favorite vacation spot—do you love beaches and bright blue water? Or how about a cozy ski lodge in the mountains? Second, consider the material that suits your style best. Do you love a more natural look or a more streamlined look? Whichever setting and style you choose, you can integrate simple design elements such as those mentioned above to create a personalized oasis that is affordable, gorgeous and entirely your own.