Travelling with your dog can be quite a treat when you plan ahead to ensure that your dog is safe and comfortable. While there are drawbacks like distracted driving, dog anxiety, and a messy car, there are many products available to us that are cost-effective and enhance the quality and safety of every trip.
According to a survey conducted by AAA, 56% of people have driven with their dog at least once per month within the past year. In the same survey, 65% of respondents reported engaging in a distracting activity with their dog while driving, including petting their dog (52%), using hands or arms to restrain their dog (23%), and restraining the dog from going between the front and back seat (18%). While these statistics alone are not so shocking and in fact seem commonplace, according to the AAA Foundation for Traffic Safety, looking away from the road for only two seconds doubles the likelihood of getting into a crash.
Luckily for us, travelling with pets doesn't have to be complicated or unsafe. Below we highlighted five of our favorite items that make life easier and safer for both you and your best friend.
1. Pet Seat Safety Belt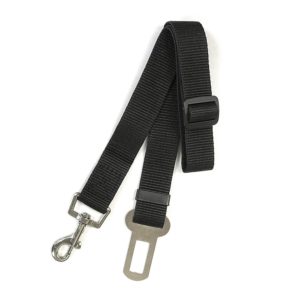 Click here for a closer look at ALEKO's Pet Seat Safety Belt
Why Use a Pet Seat Belt?
The look of bliss on your dog's face as it catches a breeze out the window is always fun to see. We want the best for our dogs and most of all, we want them to enjoy every moment with us. Unfortunately, having an unrestrained dog in the car not only increases instances of distracted driving and the likelihood of an accident, but the dog can also get into things while the car is in motion, and generally cause anxiety for the owner.
Shockingly, an unrestrained 10-pound dog will exert 500 pounds of force in a crash at 50mph, and an 80-pound dog will exert 2400 pounds of force at just 30mph. While only 16% of dog owners use a restraint while driving with their dogs, that number is on the rise as data about pet travel is collected. A pet safety belt is a simple and effective tool that will keep your pet safe and set your mind at ease.
Our Recommendation
The Pet Seat Safety Belt by ALEKO is a great option—simply click one end of the strap into an existing seat belt and attach the other end to your dog's harness. With just a moment of preparation, this simple, low-cost fix drastically increases the safety of each car trip.
2. Portable Pop Up Crate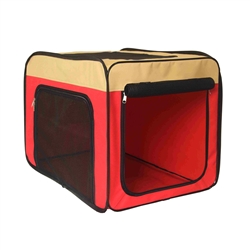 Click here to to check out ALEKO's Heavy Duty Portable Pop Up Crate
Why Use a Pop Up Crate?
If the dog seat belt isn't quite your thing, a portable dog crate is an excellent alternative with similar benefits. Contrary to what most people think, many dogs prefer the secure comfort of a crate both at home and when travelling. Dogs that are prone to anxiety, getting cold, or suffer adverse effects from travel are especially good candidates for a crate. The enclosed space not only contains your dog while moving and reduces distracted driving, but it gives your dog a place of its own—a home away from home.
Adding items from home, like your dog's favorite blanket or toy, is a great way to increase your dog's comfort within the crate. Sometimes, simply adding an item that feels and smells like home is enough to calm an anxious dog.
Our Recommendation
We recommend the Heavy Duty Portable Pop Up Pet Crate for its ability to withstand the wear and tear of travel and its ability to be set up and folded down in seconds. This crate offers heavy duty polyester siding with PVC backing, as well as mesh screens for ventilation.  When space is limited, this crate's ability to fold up is essential for car trips and flying with a dog.
3. Dog Crate Bed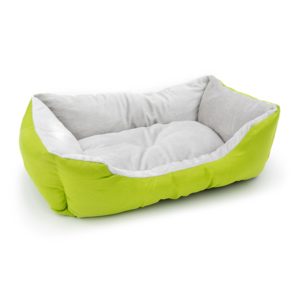 Click here to see ALEKO's Soft Plush Pet Cushion Crate Bed
Why Use a Dog Crate Bed?
While some dogs love the security of a crate, other dogs are not so sure. If this is the case, forcing your dog into a crate can cause unnecessary stress for both you and your dog. Providing your dog with a soft bed with high, raised sides is an excellent crate alternative that still gives your pet a place of their own in the car, hotels, or anywhere life takes you.
Just like with crates, including a favorite toy or blanket in the bed helps alleviate feelings of displacement during travel.
Our Recommendation
We love the Soft Plush Pet Cushion Crate Bed—not only does this bed have tall sides to make your dog feel more secure when travelling, but it is ultra-soft, includes a water-resistant canvas base, is extremely durable, and machine washable. All of these aspects make this crate bed ideal and convenient for travel.
4. Dog Pet Seat Cover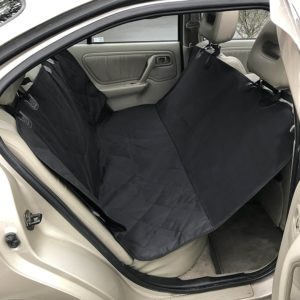 Click here to look at ALEKO's Pet Dog Seat Cover
Why Use a Pet Seat Cover?
Pet seat covers are multi-purpose, fold up for easy storage, and keep your car cleaner. Our favorite reason to use a pet seat cover is that it keeps your dog contained in the back seat and prevents it from moving around while the car is in motion. Even better, the anti-skid fabric of the cover prevents your dog from sliding around.
Beyond keeping your dog contained and reducing driver distractions, pet seat covers prevent dog hair and mud from accumulating all over your seats. There's nothing worse than having to clean your seats more than necessary!
Our Recommendation
We recommend the Dog Pet Seat Cover by ALEKO due to its excellent design, which can accommodate almost any vehicle style. This design also blocks off the front seats and prevents dogs from moving from front to back. This handy item also folds up for easy storage while travelling.
5. Travel Portable Water Bottle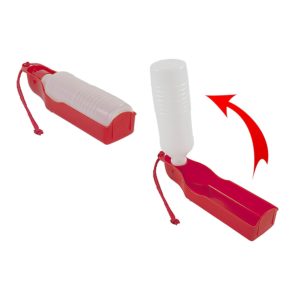 Click here to see ALEKO's Travlel Portable Water Bottle For Pet Hydration
Why Use a Travel Pet Bottle?
Just like humans, dogs are 80% water. A study from the Virginia-Maryland Regional College of Veterinary Medicine found that it only takes losing a tenth of their body's water for fatal dehydration to occur in dogs. For this reason, proper hydration is one of the most important aspects of travel.  According to the ASPCA, dogs need at least one once of water per pound of body weight per day.
Weather has a huge impact on a dog's hydration needs. When it gets hot outside, especially if the dog is running and playing, the dog is at high risk for dehydration. Cold weather greatly affects dogs as well, as winter dryness pulls moisture out at a fast rate.
Most dog owners carry both a water dish and a jug of water in addition to their personal luggage. However, with a travel pet bottle, both components are built into one. Whether on a road trip, hiking to a lake, or flying on a plane, this clever design is simple, low-cost, and mess-free.
Our Recommendation
We are excited about ALEKO's Travel Pet Portable Water Bottle for so many reasons. For one, the flow control valve prevents spills and leaks so it is easy to use on a flight or on a trail. To use it, simply pop down the water tray and squeeze the bottle to give your dog a refreshing drink anywhere.
We also love that the slim design makes it easy to slip into luggage, hiking packs, or even a back pocket. A string attached to the top also allows you to hang the bottle off of a bag or hang it up for easy access.
This pet bottle is also easy to re-fill, making it a great alternative to purchasing bottles of water.
Resources
https://www.kurgo.com/dog-travel-statistics/
https://www.modgy.com/pages/dog-hydration-facts